A self described second generation music brat, Glenna blends the classical and jazz influences of her early years with her own unique artistic expression derived from her love of folk music. The product is a collection of original tunes with meaty chords, intricate melodies and poignant lyrics. Her honesty will make you cry one minute and laugh the next as you are allowed a glimpse into who Glenna Green is.
read more
Venus Envy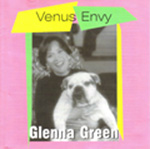 VENUS ENVY Written for the women who have dressed up against us. Women do check out how other women look. This is not an issue of criticism as much as an observation and an admission.
TRACES The remains of a love less can be less than a shadow ... beyond the photos thers is and echo in memories ... and the ache is worse when it is followed by the numbness.
ELEANOR Was married to my very favorite person ever. Jackie Washington was a blues man. A very happy blues man and I loved him madly. Had he been available and closer in age we could have been trouble. We have a deal to meet up next life under closer circumstances. I miss you Jackie.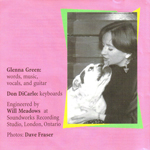 LOVE RAINS A rain of tears ... some people are drama addicts and choose to complicate simple moments ... and then love rains.
HEY LOVE Alright we broke up and we're over eachother but can we go out again? Some people are just a hard habit to break.
WE COULD Vows are taken and promises made and when it ends there's no one person to blame, and no one divorces on a whim. It just is what it is ... over.
RICH LADY Retail hell is explored through the eyes of a fashion boutique owner.
HOW COULD I KNOW How do you trust your heart to fall in love again? In one life, could there be another chance at love?
JENNIE Written for my kid sister when I left home ... and her.
AT CHRISTMAS MISSING HOME Missing a home far away in a wee Scottish town. How brave it is to make a new start so far away, and a story so common in this country.

Please follow the link below to order my latest CD More than a Hat Rack. Please just indicate quantity and I will keep you notified of order status through the email you provide.
Click here to order a CD NOW!
Get in touch


email: glenna@kos.net